Canoe Adventures on the Shenandoah River 2022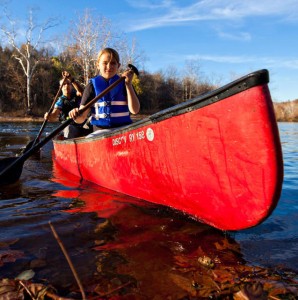 There are good reasons canoes were the Indians' craft of choice for thousands of years. To this day canoes are the ideal watercraft for exploring the many subtleties of the legendary Shenandoah River.
Canoes are nimble and swift, and easily navigate the many twists and turns that make this river so much fun to paddle. Motivated paddlers maintaining a relaxed yet steady pace may expect to cover three miles or more per hour.
MINIMUM AGE 5 YEARS, NO EXCEPTIONS
CANOES
The South Fork of the Shenandoah is a flowing mountain river, in the beautiful Shenandoah Valley, legendary for its canoeing excellence. Canoes are the craft of choice on this river because they are swift, maneuverable, and easy to handle at just about all river levels. A majority of our rental canoes are Wenonah Sourthfork and Northfork canoes. These durable 15'8'' to 16'9'' canoes are made of a three-phase Rotomolded Polyethylene material. We also offer smaller, lighter weight canoes made of Royalex material for the solo canoeists. Canoes are ideal for exploring the many subtle riffles and eddies which make the Shenandoah so much fun to paddle. There is no better way to experience this wonderful river.
CANOE TIPS
Canoes are so versatile they're good in just about any river condition (except flood or dust). Be sure to drink plenty of fluids, slather on the sun screen, wear foot protection, and enjoy the river.
SHORT TRIPS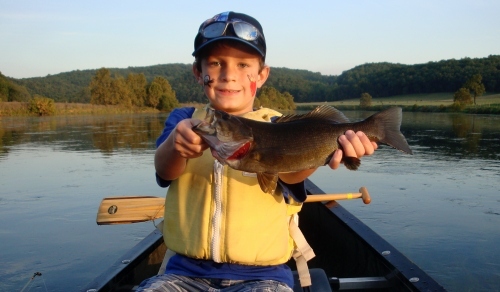 Trip #1 HAZARD MILL TRIP
$64 per canoe
3 miles, 1 hour paddle time

A very easy introductory trip over calm water for those with limited time (or those hard core fisherman wishing to thoroughly work this great fishing section).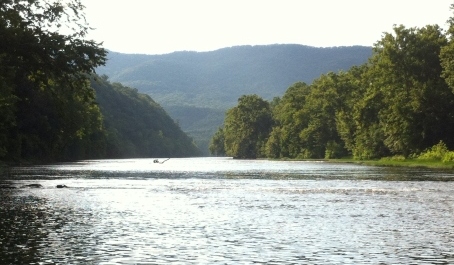 TRIP #2 STATE PARK TRIP
$64 per canoe
3.5 miles, 1 hour + paddle time

A short float paralleling the new Shenandoah River State Park and finishing in the park itself. This is an excellent section for bird and wildlife enthusiasts.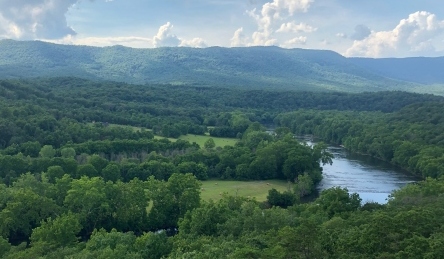 STATE PARK: HIKE/FLOAT TRIP
$64 per canoe
3 mi hiking, 3.5 mi floating, 3 hrs

Park your car near the canoe launch in Shenandoah River State Park. Hike the easy trail up river to Downriver Canoe Company. Rent a canoe and float back to your car.
MOST POPULAR DAY TRIPS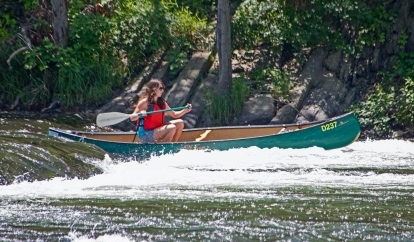 TRIP #3 BURNERS BOTTOM
$79 per canoe
7.5 miles, 2.5 hours paddle time

Our most popular short trip through stunning mountain scenery including the Sudden Ledge and the Old Mill Race (my favorite section). Makes a great all day fishing trip.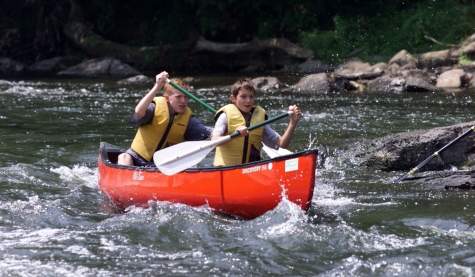 TRIP #4 SEEKFORDS LANDING
$79 per canoe
12 miles, 4 hours paddle time

This is our best day trip over the most remote section of the river including the challenge of Compton Rapid (class II), the sudden ledge, and the old mill race.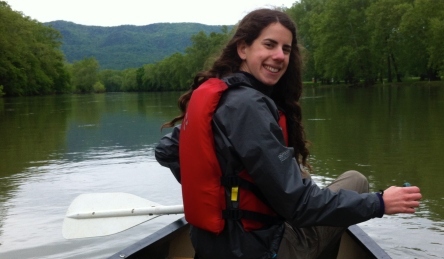 MASSANUTTEN: HIKE/FLOAT
$85 per canoe
12 mi hiking, 12 mi floating, 9 hrs

This trip starts with a 10.5 mile hike in the George Washington National Forest ending at Seekfords boat launch, followed by a 12 mile paddling trip back to Downriver Canoe Company. Geared toward experienced outdoors enthusiasts in good physical condition. Start early. (Strenuous and Challenging)
LONGER TRIPS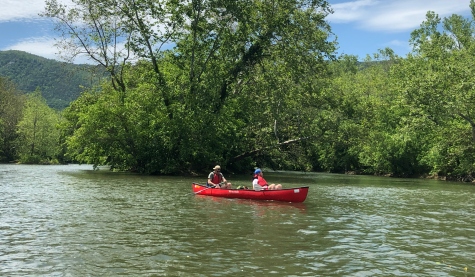 TRIP #5 J.R.'S CAMPGROUND
$84 per canoe
15 miles, 5 hours paddle time

This full day's paddling adventure begins right where the river "gets good" about 4 miles above Compton Rapid and includes all of the previous two sections.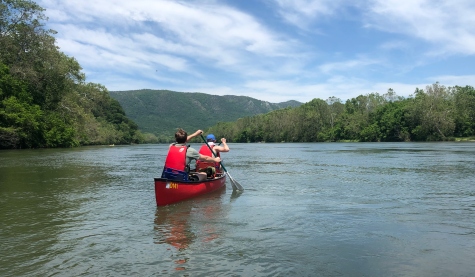 TRIP #6 CAVALIER FARMS
$84 per canoe
19 miles, 7 hours paddle time

A long trip for the stout of limb (intellect slim) or when the river level is high and pushy (like my punk girlfriend). Start early, paddle hard. Not recommended when water level is low.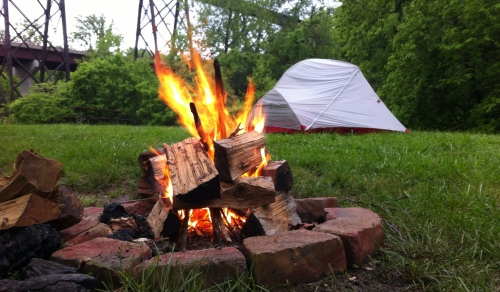 TWO DAY TRIP (FORT STOVER)
$159 per canoe
24 miles, 9 hours paddle time total

A great overnight trip starting at Fort Stover with camping in Golden Rock Campground at Compton Rapid (the prettiest spot on the river). We recommend spotting your vehicle and camping gear at the campground to avoid wet sleepingbagitus (we shuttle you back at the end of the trip).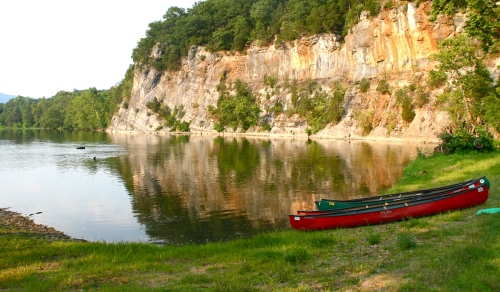 FIRST LEG AND CAMP 
Ft. Stover to Compton Rapid
$129 per canoe
13 miles, 5 hours paddle time

Simply the first day of the two day trip with camping (one day of paddling).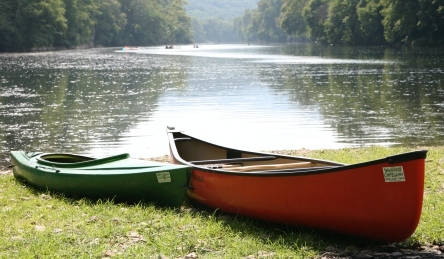 TRIPS LONGER THAN 2 DAYS
$159 per canoe first 2 days
$49 per day thereafter

Everyone is unique, therefore, all trips 3 days or longer will be custom planned depending on river conditions and guest priorities (and peculiarities). We have 160 miles of river to work with. 12 to 15 miles per day is a good pace. Be careful not to overload your canoe.