Kayak Fun on the Shenandoah River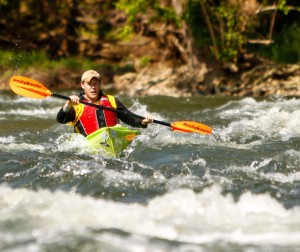 The Shenandoah River lends itself very well to recreational kayaking. Solo kayaks are highly maneuverable and allow individuals to explore the river at their own pace and on their own terms. We primarily use 11' sit inside kayaks which are easy to paddle and very stable.
We also feature a limited selection of sit-on-top kayaks as well. All our kayaks are pretty darn comfortable with high backed seats providing excellent back support and adjustable foot braces. If anything, kayaks are even swifter than canoes.
KAYAKS
Downriver Canoe Company maintains a fleet of over 60 plus open cockpit, sit inside kayak rentals on the Shenandoah River that are stable, easy to handle, and fun to paddle. Kayaks are highly maneuverable and give the individual paddler great flexibility in exploring the subtle nuances of a flowing river. A mix of canoes and kayaks allows everyone to try each in turn, or makes a great option for that odd person in your group (every group has one).
TANDEM KAYAKS
We offer two person 16' sit inside tandem kayaking rental on the Shenandoah River which are comfortable and swift, but tend to be a bit sluggish in turning which may, in some cases, cause tension between the participants (we call 'em divorce boats). Paddling a tandem kayak requires a modicum of communication, coordination, and cooperation, and having paddled a tandem before is always helpful. For most folks a canoe is probably a better choice. The rental rate for our tandem kayaks is exactly the same as that of a canoe, so take your pick.
FISHING KAYAKS
A great addition to our fleet, these kayaks feature a stable fishing platform with plenty of room for poles, tackle boxes, & extra storage. We use the Old Town Topwater 12, a big kayak featuring all day comfort seating and great stability for stand up casting. These premium kayaks do rent for a premium price though at $59 per day, but for avid fishermen the added stability, storage, and all day comfort are well worth it.
SHORT TRIPS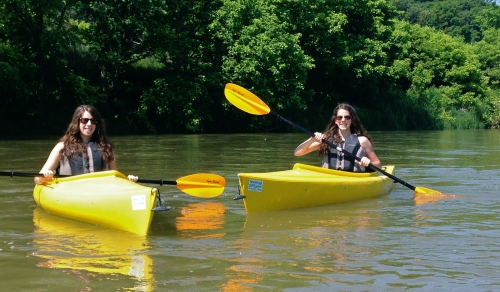 Trip #1 HAZARD MILL TRIP
$39 per Kayak
$54 per Tandem Kayak
$49 per Fishing Kayak
3 miles, 1 hour paddle time

A very easy introductory trip over calm water for those with limited time (or those hard core fisherman wishing to thoroughly work this great fishing section).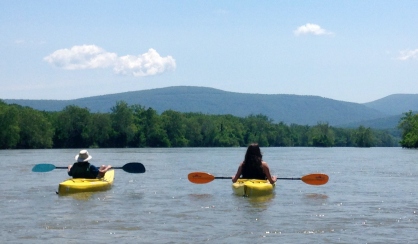 TRIP #2 STATE PARK TRIP
$39 per Kayak
$54 per Tandem Kayak
$49 per Fishing Kayak
3 1/2 miles, 1 hour + paddle time

A short float paralleling the new Shenandoah River State Park and finishing in the park itself. This is an excellent section for bird and wildlife enthusiasts.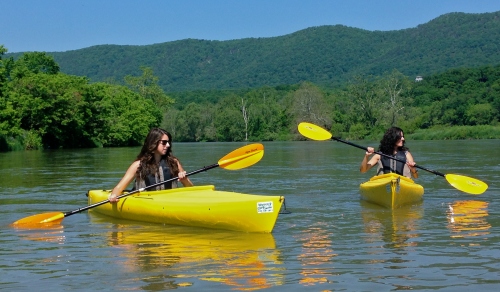 STATE PARK: HIKE/FLOAT TRIP
$39 per Kayak
$54 per Tandem Kayak
$49 per Fishing Kayak
3 mi hiking, 3.5 mi floating, 3 hrs

Park your car near the kayak launch in Shenandoah River State Park. Hike the easy trail up river to Downriver Canoe Company. Rent a kayak and float back to your car.
MOST POPULAR DAY TRIPS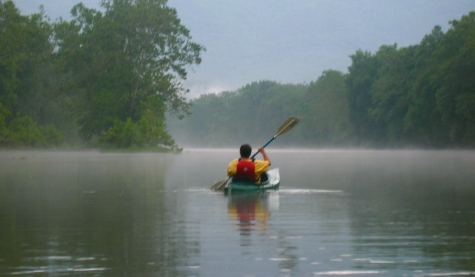 TRIP #3 BURNERS BOTTOM
$49 per Single Kayak
$69 per Tandem Kayak
$59 per Fishing Kayak
7.5 miles, 2.5 hours paddle time

Our most popular short trip through stunning mountain scenery including the Sudden Ledge and the Old Mill Race (my favorite section). Makes a great all day fishing trip.
TRIP #4 SEEKFORDS LANDING
$49 per Single Kayak
$69 per Tandem Kayak
$59 per Fishing Kayak
12 miles, 4 hours paddle time

This is our best day trip over the most remote section of the river including the challenge of Compton Rapid (class II), the sudden ledge, and the old mill race.
MASSANUTTEN: HIKE/FLOAT
$52 per Single Kayak
$75 per Tandem Kayak
$59 per Fishing Kayak
12 mi hiking, 12 mi floating, 9 hrs

This trip starts with a 10.5 mile hike in the George Washington National Forest ending at Seekfords boat launch, followed by a 12 mile paddling trip back to Downriver Canoe Company. Geared toward experienced outdoors enthusiasts in good physical condition. Start early. (Strenuous and Challenging)
LONGER TRIPS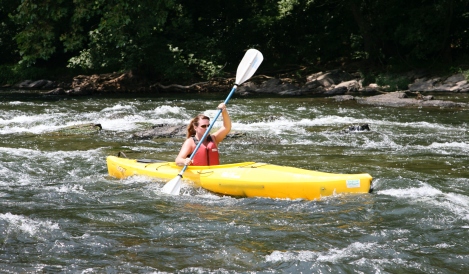 TRIP #5 J.R.'S CAMPGROUND
$54 per Single Kayak
$75 per Tandem Kayak
$64 per Fishing Kayak
15 miles, 5 hours paddle time

This full day's paddling adventure begins right where the river "gets good" about 4 miles above Compton Rapid and includes all of the previous two sections.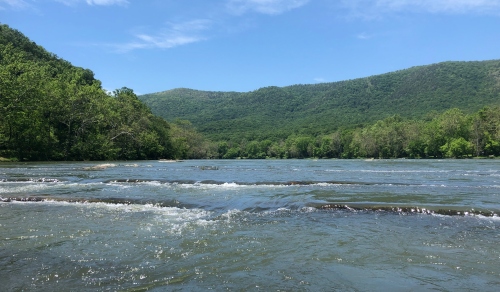 TRIP #6 CAVALIER FARMS
$54 per Single Kayak
$75 per Tandem Kayak
$64 per Fishing Kayak
19 miles, 7 hours paddle time

A long trip for the stout of limb (intellect slim) or when the river level is high and pushy (like my punk girlfriend). Start early, paddle hard. Not recommended when water level is low.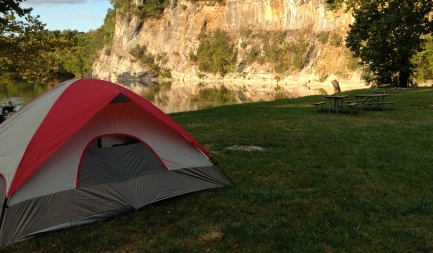 TWO DAY TRIP (FORT STOVER)
$99 per Single Kayak
$140 per Tandem Kayak
$109 per Fishing Kayak
24 miles, 9 hours paddle time total

A great overnight trip starting at Fort Stover with camping in Golden Rock Campground at Compton Rapid (the prettiest spot on the river). We recommend spotting your vehicle and camping gear at the campground to avoid wet sleepingbagitus (we shuttle you back at the end of the trip).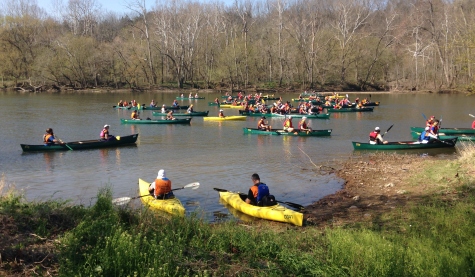 FIRST LEG AND CAMP
Ft. Stover to Compton Rapid
$79 per Single Kayak
$110 per Tandem Kayak
$89 per Fishing Kayak
13 miles, 5 hours paddle time

Simply the first day of the two day trip with camping (one day of paddling).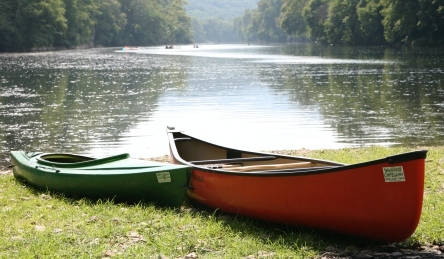 TRIPS LONGER THAN 2 DAYS
$99 per Single Kayak first 2 days,
$34 per day thereafter
$140 per Tandem Kayak first two days,
$42 per day thereafter
$118 per Fishing Kayak first two days

Everyone is unique, therefore, all trips 3 days or longer will be custom planned depending on river conditions and guest priorities (and peculiarities). We have 160 miles of river to work with. 12 to 15 miles per day is a good pace. Be careful not to overload your canoe.