Shuttle Services for Your River Adventure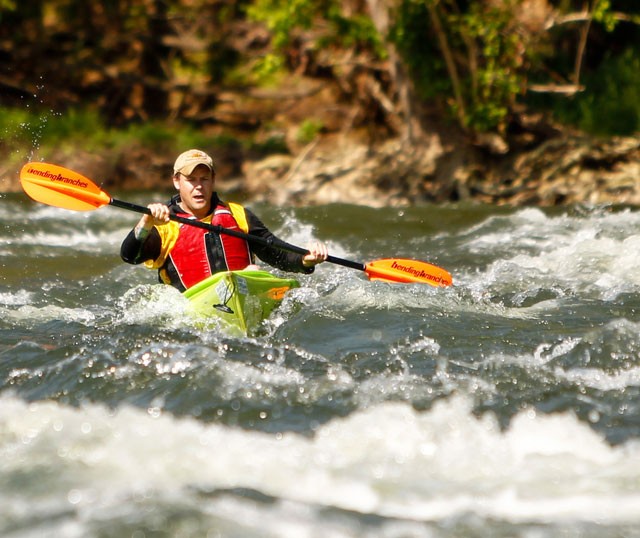 Downriver Canoe Company provides great trip options for those who wish to paddle the river in their own boats. We will shuttle your personal equipment everyday of the week except Saturdays, when we are too busy with our rentals.
Just a reminder, if you're using our shuttle service, your river trip will not be guided. After signing up for the trip of your choice we will go over basic safety procedures, and review your river trip with you. The majority of our trips start up river and float back to our base, so take your time and finish at your leisure. We do not have set departure times either, we go when you are ready. We like to say we run on your schedule and don't make you run on ours.
So, when you're ready, you will be transported to the launch site of your trip and cast forth upon the waters. Please note: the time indicated for each trip is the approximate paddle time for kayaks or canoes paddling at a steady but leisurely pace under normal river conditions. If you are fishing, just floating, or the river is low then trips will of course take longer. We find it's better to go a little too short than a little too far, so try not to be overly ambitious when selecting the length of your float.
Canoes and kayaks are almost twice as fast as rafts. Consequently, suggested raft routes are shorter. All floats finish back at our base unless otherwise indicated.
MINIMUM AGE 5 YEARS, NO EXCEPTIONS
2022 PRICING for Personal Equipment Shuttle Service
SHORT TRIPS
Trip #1 HAZARD MILL TRIP
3 miles, 1 hour paddle time
One Boat Shuttle: $30
Multiple Boats Shuttle:
$15 per Canoe
$10 per Kayak
$30 per Raft
TRIP #2 STATE PARK TRIP
3 1/2 miles, 1 hour + paddle time
One Boat Shuttle: $30
Multiple Boats Shuttle:
$15 per Canoe
$10 per Kayak
$30 per Raft
MOST POPULAR DAY TRIPS
TRIP #3 BURNERS BOTTOM
7 1/2 miles, 2 1/2 hours paddle time
One Boat Shuttle: $40
Multiple Boats Shuttle:
$20 per Canoe
$15 per Kayak
$40 per Raft
TRIP #4 SEEKFORDS LANDING TRIP
12 miles, 4 hours paddle time
One Boat Shuttle: $40
Multiple Boats Shuttle:
$20 per Canoe
$15 per Kayak
$40 per Raft
LONGER TRIPS
TRIP #5 J.R.'S CAMPGROUND
15 miles, 5 hours paddle time
One Boat Shuttle: $50
Multiple Boats Shuttle:
$30 per Canoe
$20 per Kayak
$40 per Raft
TRIP #6 CAVALIER FARMS
19 miles, 7 hours paddle time
One Boat Shuttle: $50
Multiple Boats Shuttle:
$30 per Canoe
$20 per Kayak
$40 per Raft
TWO DAY TRIP (FORT STOVER)
24 miles, 9 hours paddle time total
Prices below include camping (1-2 nights)

One Boat Shuttle: $80

Shuttle Boats that are Joining a Rental Group:
Canoe: $70
Kayak: $45

Shuttle Boats that are NOT Joining a Rental Group:
Canoe: $90
Kayak: $55
FIRST LEG AND CAMP – Ft. Stover to Compton Rapid
13 miles, 5 hours paddle time
Prices below include camping (1-2 nights)

One Boat Shuttle: $80

Shuttle Boats that are Joining a Rental Group:
Canoe: $60
Kayak: $40

Shuttle Boats that are NOT Joining a Rental Group:
Canoe: $80
Kayak: $50