"…Blue Ridge Mountains, Shenandoah River", thank you John Denver for appreciating the magnificence of this storied river and the valley through which it flows. Located just an hour's drive from the traffic choked beltway around Washington DC, the Shenandoah Valley is an oasis of small towns and open farm fields bordered east and west by rolling mountains.
One of the most beautiful and most interesting sections of the river is the South Fork of the Shenandoah as it flows north through the narrow Page Valley from Luray to Bentonville. Through this remarkably remote twenty eight mile section the river is pinched between Shenandoah National Park to the east and the George Washington National Forest to the west with mostly forest and farmland and little development.
The scenery is breathtaking as the river bounces back and forth between the Blue Ridge and Massanutten Mountain walls as it seeks its way north.  Many interesting geologic features are exposed in the cliffs and rock outcroppings along the way, interspaced by low, tree lined farm fields.  And, being situated between two huge protected wilderness areas, the wildlife is exceptional.  Beaver, muskrat, river otter, mink, foxes, and of course deer are common, with an occasional black bear and very occasional bobcat.  And it is a bird watchers paradise with ducks, geese, osprey, bald eagles. kingfisher, all manor of woodpeckers including red headed woodpeckers, and the occasional scarlet tanager and indigo bunting.  Bigfoot is also rumored to venture through these parts although I wouldn't swear to it.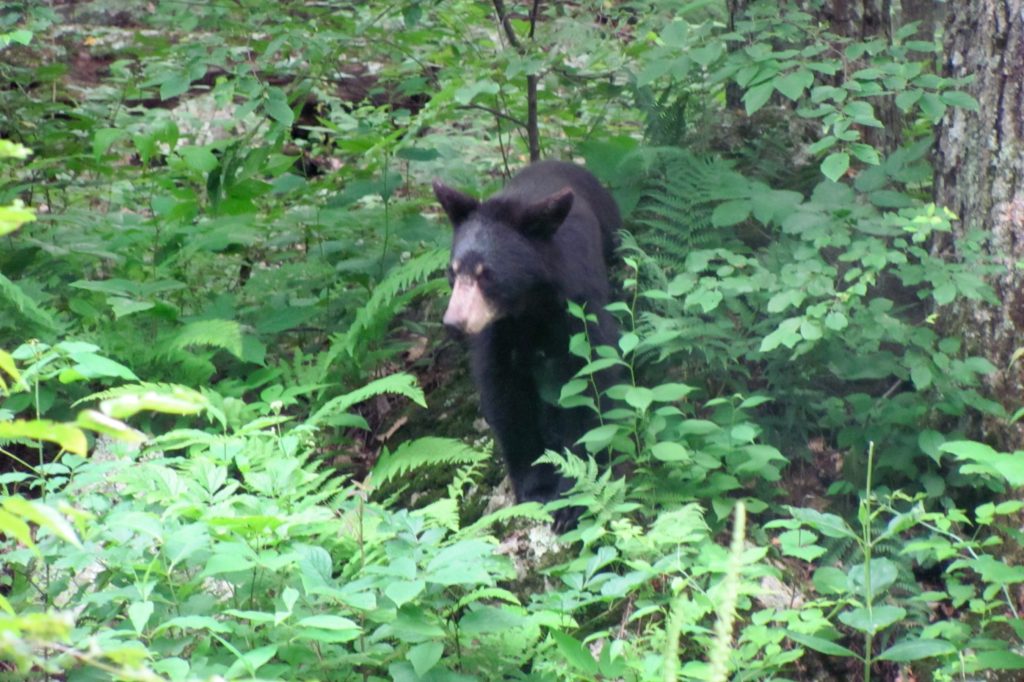 The river itself flows over a solid rock bottom creating may interesting riffles and small rapids which also creates a wonderful fish habitat. The South Fork of the Shenandoah is legendary for its small mouth bass fishery. Catches of eighty fish or more per person are not uncommon. My friend Ken Arnold reported catching a fish on thirty seven consecutive casts one September day. On the thirty eighth cast he hooked a fish but didn't land it, so he ended his count. Of course there are skunk days as well. They say that's why they call it fishing, and not catching.
Normally, the South Fork maintains a near ideal level for paddling, averaging about 3 feet in depth and alternating between riffles and pool, riffles and pool. Occasionally, after a big rain, the river will be too high to paddle safely. And sometimes after a prolonged dry spell the river will become "boney", still navigable by canoe but with some bumping and scraping. And the water temperature will hang in the upper 70's to low 80's through the summer making for a refreshing occasional swim in one of the deeper pools.
As for paddling on the Shenandoah, I am partial to the canoe.  This incredibly versatile watercraft is light, maneuverable, easy to paddle, does well at almost all river levels, and can easily carry your cooler and other gear.  Solo kayaks are also very popular and fun to paddle with each person the captain of their own vessel.  Tandem (two person) kayaks are fun as well, but they do take a certain amount of coordination, communication, and cooperation (we sometimes refer to them as divorce boats).  Some folks prefer a four or six person commercial raft so the whole family can go in one watercraft, although rafts do tend to get hung up and stuck in low water conditions.  Finally, the float tube has become very popular where you just drift along and DO NO WORK, for some the best way to go.
People often pull me aside and remark they had no idea there was this level of wilderness experience so close to Washington, and I tell them to thank our ancestors who created Shenandoah National Park and the National Forest system for preserving the land and wildlife therein.  And I tell them to support their local "Friends of…" or "Riverkeeper" river conservation organizations so their children can continue to enjoy the legendary Shenandoah.